Island of Art participates in HVAF Open Studios
Island of Art participates in HVAF Open Studios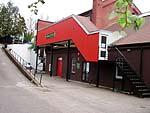 Island of Art is pleased to confirm its participation in Open Studios 2004. The Open Studios 2004 features two entries for Island of Art: an Open Studio Group and an exhibition.
Island of Art Ltd is delighted to participate in Open Studios 2004.
The event, the fourteenth, organised by Hertfordshire Visual Arts Forum (HVAF) runs between 18th September and 3rd October 2004.

The venue is CRA's framing workshop at 222, London Road, St Albans.

Island of Art artists who have signed up for the Open Studios are Marcus Carter and Sandie Thoroughgood.
There will also be an exhibition which will include the following artists: Derek Bird, Stephanie Stewart, Ernest Bottomley, Mike Beddall and Jean-Jacques Beltramo.