The Garibaldi pub Exhibition - Sinead Lynch
The Garibaldi pub Exhibition - Sinead Lynch
Island of Art Ltd is delighted to continue its series of exhibitions at the Garibaldi pub (61 Sopwell Lane, St Albans) in the heart of the historic city of St Albans. The company is proud to show a sample of photographs from well known local photographer Sinead Lynch. They are part of the "Asian Encounters" collection, showing people and scenery.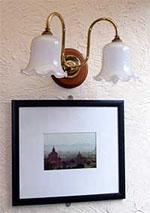 The exhibition, both enhances the eating area and gives viewers an opportunity to sample Lynchs' photographic artistic skills.
A price list is available in the restaurant for the customers if they want to order prints. 10 "Asian Encounters" photos are displayed on this site and visitors are able to buy online, using the secure payment facilities.